Additional recent projects include:
The Flight Attendant's Travel Guide-- A new pilot for a Travel Channel Series

Ad campaign for Bridgestone Tires/Golf equipment
Recreation of period photos from Sports Illustrated for a recent issue
"Expecting Love" - a Polish film-festival feature which included Cathy Doe from the soap "Passions"
"Forget Me Not" - a Tween horror film starring Carly Schroeder (from Lizzy Maquire) and Cody Lindley (from Hannah Montana)

At Right:
"Pulp" at The Celebration Theatre (opening dress shown)

Created costumes based on the iconic covers of pulp fiction novels from the early 20th century. Lots of bullet-bras and pencil skirts, and blouses that didn't button past the sternum.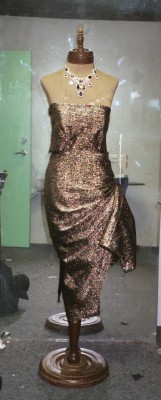 Stage Shows:
"Schoolhouse Rock Live, Too!" at Greenway Court Theatre in Los Angeles. I worked to translate the cartoon versions of these favorite songs into live/cartoon versions for the stage show. Work included having to design and create several magic tricks, puppets and sfx props as well as a life-sized puppet-costume. Click on the show tab at left for pics and more info. Reviews were positive about the "many zany props created by Daavid Hawkins".
"There's No Place Like Hollywood" at The Stella Adler Theatre. Dir: Rick Sparks
I adapted existing costumes into usable lightning-fast changes and created new costumes as
well as creating all new jewelry for the entire show.

"A Charlie Brown Commercial Christmas" at The Greenway Court Theatre. Dir: Rick Sparks

Successfully brought to life the animated effects from the holiday cartoon known to all.
Among the highlights of the show applauded in reviews were my tiny xmas tree that CB
adopts and subsequently "kills" with the big red ornament, the cloud of floating hearts that
springs out of nowhere and floats around Sally as she stalks Linus, and Pigpen's always present dust clouds.

"The Devil's Disciple" at The Beverly Hills Playhouse (Canon Theatre)

Created period clothing from sketches by Shon LeBlanc

"Dangerous Liasons" at Knightsbridge Theatre

Received positive notice in Backstage West for stylized period costumes that I designed and
created for the actors. Star, Caroline Hennesey raved over my work.

"Sockmuffin the Elf"

Worked with designer Ivy Thaide to create costumes and with Marcel Prefontaine to create the fantasy sets for this whimsical Xmas themed show about the origin of xmas. Though the show was thoroughly panned my designs for props and set creation were very well received by critics.

"Felicity Fahrenheit and the degrees"
A stunning show where I worked for 5 yrs in Atlanta. The star of the show was a Madonna impersonator and my job was to knock off concert costumes at an astounding rate. Photos from that time are available during meetings upon request.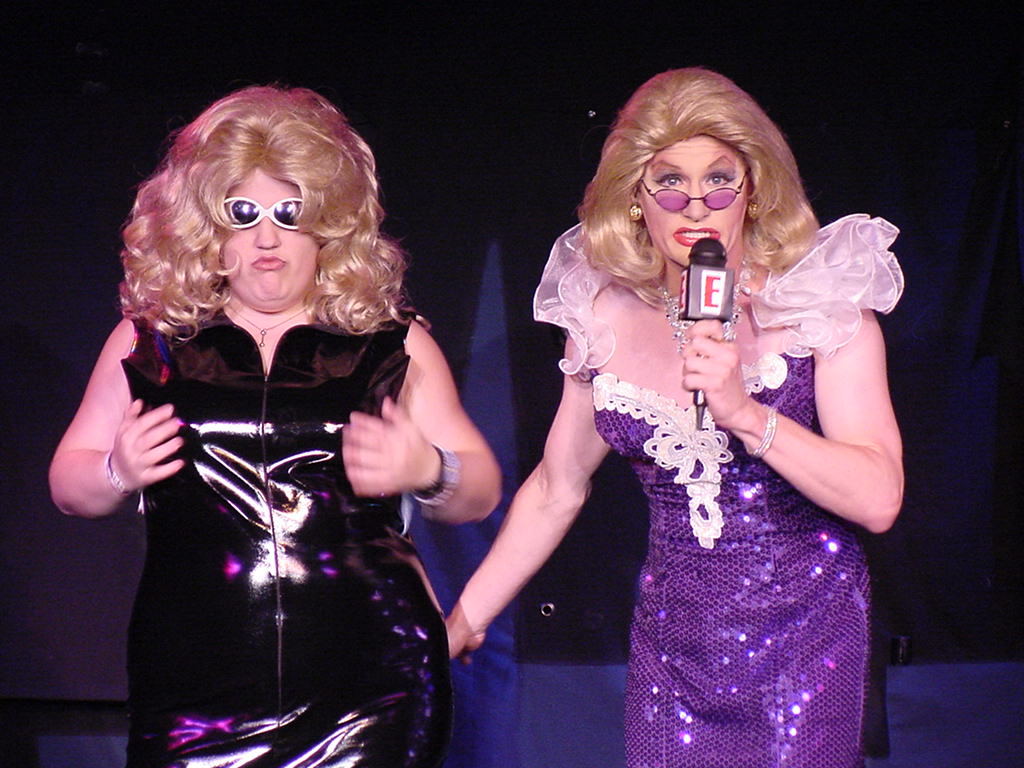 "Hollywood Uncovered"

Designed and created original costumes and props for the Joan Rivers character as well as
creating a multi-window backdrop that soared to 17 feet and spanned 35 feet of stage.
Above: Anna Nichole Smith and Joan Rivers at a Hollywood Award show in "Hollywood Uncovered".
Right: Joan gives a withering glare at her cameraman just before a Hollywood Award show in "Hollywood Uncovered".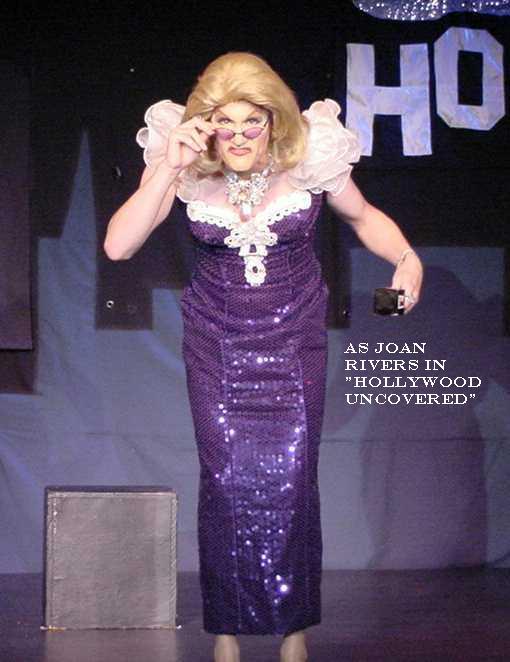 Television Shows
"The Singing Office" - TLC competition show. See that page for details
"Kamen Rider Dragon Knight" - Adventure airing on The CW. See that page for details.
"Over the Top" - Sitcom starring Tim Curry, Annie Potts, Liz Torres and Steve Carrel.
"Lived to Tell" -a project that aired on Discovery Channel wherein my team recreated a crashed car for a story of miraculous survival.